Outback Power Technical Support
Fire Mountain Solar
This is custom heading element
Need Technical Support for your Existing Outback Power Inverter, Charge Controller, or Other Equipment for your Battery Based Power System?
Outback Power Systems is the leading designer and manufacturer of advanced power electronics for renewable energy, backup power, marine and mobile applications. For this reason, thousands of Outback products have been installed on battery-based power systems around the world since our company was founded in 2001. Fire Mountain Solar has been a dealer since Outback first began shipping product in 2002, selling and installing thousands of their products. We have also operated our office and the nearby residence of FMS owners Tim and Alana Nelson on Outback equipment since our original Trace inverter providing AC power needed replacing back around 2005. Later in 2013 when utility power was brought in, the off-grid Outback PS system was replaced with an Outback Radian grid tie with battery backup inverter system, giving us the best of all worlds. The outcome of all this experience is that we are widely known as an industry leader in installations, sales and technical support of Outback Power products, as well as other battery-based power system equipment.
But Don't Just Take Our Word for It
When Outback Power needed an installer for their new corporate headquarters in Arlington, Washington, they could have selected anyone. Their choice? Fire Mountain Solar.  And they didn't just choose us once. When an installer was needed for a larger project at the testing facility of their parent company in Bellingham, Washington, they again selected Fire Mountain Solar.  We have also installed residential grid tie and grid tie battery-based systems for a number of their management team and employees, including John Webber (aka #WorldWideWebber).
Want to hear more about the system we installed for John? Visit Outback Power's Facebook page, select Videos from the left-hand menu, and scroll down to All Videos and look for these images: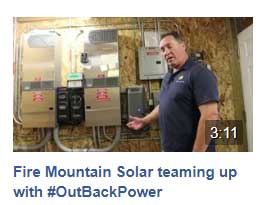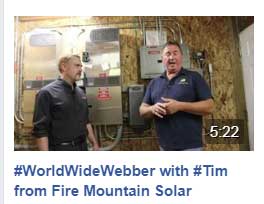 For us, the honor of being selected for all of these projects means our many years of hard work are recognized and appreciated by those who know and insist upon exceptional knowledge and the highest quality of workmanship from their installers.
The Icing On The Cake
In 2015 Katee Wood joined the FMS team.  For over 8 years Katee worked at Outback Power, 7 of those in Outback technical support. Katee's comprehensive background supporting Outback's legacy products, combined with her extensive knowledge of their current product lines and battery-based technology in general, takes our in-house expertise to the highest level of any dealer in the industry today.
What Does That Mean For You?
If you have an existing battery-based power system, with or without a renewable energy charging source, and need technical support, service or to upgrade, we can help.
Why Not Just Call The Manufacturer?
Most manufacturers provide a technical support line for their customers. But we've received comments from many consumers over the years that it is difficult if not impossible to get through on those technical support lines within a reasonable time; and that it's particularly difficult if you need to talk with them more than once to resolve your issue.
At Fire Mountain Solar we are committed to providing timely, expert technical support without all the hassle to get your battery based power system running efficiently and effectively as quickly as possible.
What If I'm Not An FMS Customer?
Fire Mountain Solar offers our outstanding high-end technical support to anyone, not just our own customers, for a modest fee.  If your power system isn't operating to peak performance, or if your system is malfunctioning, we can often walk you through troubleshooting steps and even resolve the issue with you over the phone.  And if it can't be handled over the phone, we can schedule a service call for clients within our service area, and/or recommend and get you just the right parts to resolve your problem.
For high-end, in-depth technical support our fee is $150 per hour with a one-hour minimum. Any consecutive time over one hour will be billed in quarter hour increments.
Please call us today for a free consultation to determine if our technical support service is right for your situation.  (360) 422-5610.