Hurricane Ian No Match for Solar-Powered Community
Fire Mountain Solar
The popularity of using solar panels to reduce the cost of electricity for homes and businesses and to combat climate change, has been on a steady rise over the past decade. In the past few years, individuals, communities, and utilities have also begun looking to solar for emergency backup power and to increase grid resilience during wildfires and storms. Last month, solar for grid resilience was put to the test in Babcock Ranch, Florida, and it passed with flying colors.
Babcock Ranch is a planned community in Charlotte County, Florida, about 12 miles northeast of Fort Myers. During Hurricane Ian, which blasted the region in late September 2022, an estimated 2.6 million residents lost power. This includes 90% of Charlotte County residents. However, both during and after the storm, the lights stayed on in Babcock Ranch thanks to the 700,000 solar panel array and energy storage system that provides power for the town.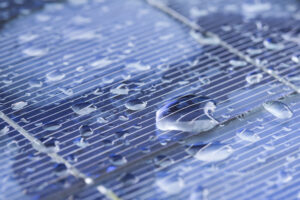 Made up of about 20,000 homes and roughly 50,000 residents, Babcock Ranch was founded by former NFL lineman Syd Kitson. As a developer, Kitson's vision was to build the community in ways that would protect the health of the environment and protect the community from the increasing number of severe storms. Using renewable energy to power the town was a key tenet of the development plan, but design features go far beyond that.
Power and internet lines were buried to prevent wind damage, roads were designed to flood so houses don't, and the landscaping included native plants to control stormwater along roads. Additionally, of the original 91,000 acres purchased, 9,000 acres were used for wetland restoration and preservation and 73,000 acres were sold to the state of Florida for preservation.
Some residents of Babcock Ranch have installed additional solar panels and solar batteries for lower power bills and secondary resiliency. But during Hurricane Ian, those battery systems went unused because they weren't needed. Despite the 100+ mile-an-hour winds that pummeled the area, the Babcock Ranch solar farm withstood the assault. Now, almost 3 weeks later when tens of thousands of Florida residents are still without power, "America's First Solar Powered Town" proves that solar has an important role to play in the fight against climate change as well as withstanding its impact.
Here in Washington, Fire Mountain Solar has been designing and installing grid hybrid and off grid solar systems with battery backup for over 2 decades. Whether you are in our state and looking for a full service solar solution, or you live elsewhere in the U.S. and want a DIY solar kit, FMS has the expertise and experience to help. Just contact us for a free consultation.
More about Babcock Ranch: