About Us: Fire Mountain Solar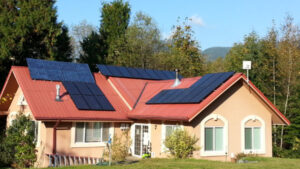 Your Power, Your Way
We'll help you find the right alternative power solution to meet your specific goals, and we'll make the process simple and stress-free. All of our clients have done it, and you can too! How can we serve you?
---
Trusted by Thousands of Home and Business Owners
We understand solar is an investment and that there are many qualified contractors for you to choose from. Since 2001, we've been trusted by thousands of residential and business clients, including:

---
Limits? Not here. Energy solutions for every lifestyle.
Need help finding a power solution for a unique situation?  We've been there!  FMS was founded after the owners purchased a rural piece of property with no utility power. Wanting to enjoy the beautiful setting but not wanting to live with the noise of a generator like their neighbors, they designed and installed a solar/wind/energy storage power solution where a generator served only as occasional supplemental backup. Fourteen years later when utility power finally made it to the end of the road, the power system was updated to what is considered the best of both worlds: a grid hybrid solar system that uses the automatic generator for recharging when the utility goes down for extended periods. Learn more.
---
At Fire Mountain Solar, we:
Believe in always doing the right thing just because it's right.
Commit to doing everything we do in a thorough and responsible way.
Know it is a privilege and honor to be selected to assist our clients in fulfilling their specific power system goals.
Feel that serving and caring for our clients and our community is our real calling; providing power system solutions is just one of our opportunities to do that.
Regard authentic trust, mutual respect, and genuine cooperation as fundamental to the personal and professional success of all our team members and our clients.
Make a Difference With Your Power
When you choose to go solar, you make a difference in many ways. For each complete power system purchased a donation of at least $100 will be given to one of the following small non-profit organizations that are doing big work to make the world a better place.
Wana Duma Children's Project, Stanwood WA
Wana Duma Children's Project is an outreach organization seeking to ease the burden for women, children, and families in crisis. Through multiple levels of health, wellness and educational support programs, Wana Duma provides child and family-specific interventions that work!
Pacific Rim Institute of Environmental Stewardship, Whidbey Island WA
The mission of the Pacific Rim Institute is to equip people and communities to live sustainably and care for Creation. PRI works toward the vision of a flourishing creation, sustained through mutually supporting interactions between human cultural landscapes and native ecosystems.
Children of the Valley, Mount Vernon WA
Children of the Valley supports underprivileged and overlooked youth in Skagit County by providing a positive, caring, and supportive environment for them to flourish. Through supporting children both culturally and academically, these children are given the skills and confidence to fulfill their greatest potential. 
Project Freedom Ride, Augusta GA
Project Freedom Ride's mission is to be the connection between unwanted dogs in high kill areas of Texas and Georgia, and loving families in the Pacific Northwest and other northern states. By providing their carefully screened rescue partners with funding assistance, networking, and adoption assistance they are able to help increase the number of lives saved by giving them a second chance with families and receiving partners outside of high kill areas.
Underground Ministries, Mount Vernon WA
Underground ministries opens new relationships of embrace and trust between the incarcerated and the communities to which they return—for our mutual transformation and resurrection. We serve those at the bottom of the American system: prisoners, gang members, those most feared, locked away in solitary confinement, and deemed dead to society.