How To Compare DIY Solar Kits
You Have Options!
Solar electricity is becoming more popular every day, and increasing demand means consumers have more options than ever when looking for a reputable installer. And it's not just full service solar that is booming, many consumers want to install their own solar system. 
Over the years we've been asked many times how to compare DIY solar kits. Our comprehensive guide will outline what to look for while you're shopping for the best solar kit to achieve your goals.
We've Been There
Our founders, Tim and Alana Nelson, designed and built their own off-grid system at their remote home and office property in Washington state before the advent of the DIY Solar Kit. After 14 years off-grid, the Nelsons brought in grid power and reconfigured their system to a grid-hybrid setup. Their personal experience is your gain – from the beginning Fire Mountain Solar has been helping DIY Solar installers. We can share not only the Nelson's experiences, but the wealth of knowledge gained from the experiences our hundreds of DIY clients.
Price vs Value
The relative ease of setting up an internet shop and the increased demand for solar products has resulted in exponential growth in the number of online retailers selling DIY solar kits over the past few years. So how do you know which solar kit is the right one for you? And possibly more important, how do you know which company offers you the best value and has the expertise that you need?
Let's start with some definitions: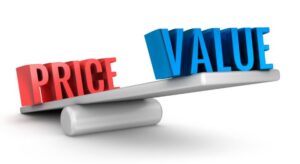 Price: The amount of money required to purchase something (a good or a service.)
Value: The usefulness or desirability of good or service, how much you love it, or what it is "worth to me." Value is not a number, but often we can compare the values of two things, especially if they are similar in use. Value includes the good or service, but also the "extras" a supplier includes or can provide when you purchase from them, and over the entire life of what they provided to you.
Value is always long term; price is short term.
Comparing DIY Solar Kits
When reviewing kits and quotes from different companies it's important to make sure you're comparing "apples to apples". You need to compare not only the specific components (brand, quantity, power rating, reliability, warranty and more), but also the supplier's knowledge, experience and expertise, the types of services they offer, as well as the level of customer service they provide today and years from now.
What is the value that you are getting from the supplier relative to the price they are asking for?
Bottom line: You want to get the right products and services for a fair price from the most qualified, reputable and service-oriented vendor.
Shopping for a DIY Solar Kit: Getting Started
Before you start looking at residential solar kits you will need to gather some information, so you know which kits to consider.
1. What type of solar kit you need depends on what you are using your solar kit for – grid tie, grid-hybrid or off-grid solar.
2. Where will you be installing your solar array – roof, ground or pole?
3. How much power do you use and/or need? If on grid, refer to your historical electrical bills. If off the grid, you will want to do a detailed analysis of your loads. New construction? Often people base their system size on their roof space or a budgetary goal.
What is Your Budget for Your DIY Solar Project?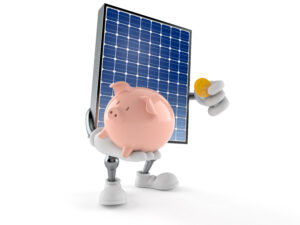 Your budget will have a direct correlation to the quality and reliability of equipment you can afford. Beware the high capacity system offered at a screaming deal. Somewhere corners were cut – be it in the quality of the components or is what is included in the kit. But this doesn't mean that you have to spend a ridiculous amount on your equipment.
READ:
DIY Grid Hybrid Solar: How Much Does it Cost?
How Do You Find Qualified, Professional DIY Solar Design Help?
Doing a Google search for DIY solar design, DIY solar kits, DIY solar companies will give you all sorts of results. Picking the first company or two from the top of the page will provide you with competent design guidance, right? Well, maybe. Search engine ranking has more to do with the expertise of the company's website folks than it does with their expertise in whatever they sell, so you'll want to vet any solar dealer before purchasing.
Some Things to Look for When Selecting Your DIY Solar Support Team:
What is their primary line of business?
Is it solar-focused or is it just selling a range of items, some of which are solar equipment?

If they are solar-focused, is it the type of solar you need? Expertise in off-grid solar is much rarer than experience in grid-tie solar.
How many years have they been in business?
Don't just take their word for it. Remember, online retailers pop up and disappear all the time with little oversight as to their claims about their business.

You want to find one that you are certain will be around long after your purchase.
What is their reputation?
Don't just look at their Better Business Bureau rating. Though it may helpful, it doesn't provide a complete picture of a company's trustworthiness. Comments on their website are great, but also read third party reviews on Google, SolarReviews.com, and other places where the company can't pick and choose which to post
What types of services do they offer?
Are they just a click and ship retailer, or are they a full-service DIY retailer that provides addition services you may need (design, support, etc.)?
When you've found a company that has the expertise and excellent reputation you want and deserve:
Give them a call.

Let them know what you need.

Ask what their process is.

Listen to their questions and explanations.

Ask why they recommend the brands and products they do.

Understand the warranties provided by the retailer and by the manufacturer of each individual product.

Find out how you process a warranty claim if you install the system yourself and do not have an installer to turn to for help.

Ask what support they offer if you have questions during the installation of your system.

Know if they can help with system programming and other setup during startup of your system.

Inquire about any ongoing support they offer weeks, months and years from now should you have questions or issues.

Do some additional research to see if there are reviews of the kit or the products included in the kit that you can find. This will help weed out any components that may have consistent workmanship or production issues, high flaw or error rates, or issues with the manufacturer.

Compare pricing for the total package, not just individual components.
Remember:
Cheapest isn't always the best deal.

Large retailers have the ability to offer special deals that small businesses often can't due to differences in volume. But small businesses often give you important extras and a much better buying experience than large retailers do.

Free shipping is great, but you are paying for it somewhere. Be sure to look at the cost of the entire package to make sure you're getting the best deal. And also be sure to consider all the bonus services that come with the package, which can add a lot of value that might not be obvious at first.
To Summarize, What You Are Looking For Is:

A supplier that: has pertinent industry experience; offers product variety & customization; provides excellent service and support and has a top-notch reputation with consumers and within the industry.

A product package that: Is designed specifically for what you are trying to do; is competitively priced when compared apples to apples.
A Kit is a Kit is a Kit?
Now let's take a look at the general types of kits you will come across – those available from big box retailers, those available from online product retailers, and those available from DIY friendly solar specialists such as Fire Mountain Solar.
Types of DIY Solar Kit Sellers:
Retail

Online

Dealer/Installer
Retail Kits
These are the kits that you would find at large box stores like Wal-Mart, Costco, or home improvement stores like Home Depot. These outlets provide immediacy and convenience but are not solar-focused businesses. They do not provide technical or installation support, and likely will not be able to answer questions on what else you will need to ensure both a complete installation and compliance with local regulations.
Pre-packaged kits with retail grade products
Some products are great, but others may be low quality or less effective/efficient than available alternatives – e.g. many retail kits use panels that are 100-250 watts versus 300+watt panels that are regularly available elsewhere

Kits are frequently price-focused meaning that the quality of products may vary as the seller tries to keep down the cost

Store staff do not have technical knowledge or experience and are primarily available to address non-technical product features and order issues.

What happens if you find out you can't DIY it? Most solar contractors and electricians won't install product they didn't sell.
Drawbacks of Retail Solar Kits
Not customizable

Limited size and load capability

Warranties are variable and require extensive research – often they are less comprehensive and/or shorter than other available products

Kits vary widely in what is included. Because sellers are product retailers and not solar experts you usually have to figure out what else you need yourself.

Kit comes with little to no design, technical, and installation support – May or may not have available support from the kit maker. Manufacturers can explain their products and capabilities, but they don't provide design and installation support unless you are a professional installer.
Online Kits
Online solar kits are generally distributed either through large online marketplaces like Amazon and Alibaba or drop-ship companies that do not have first-hand installation experience.
These companies do not focus exclusively on the solar and renewable energy industry and therefore generally do not have solar-specific knowledge.
Drawbacks of Online Solar Kits
Little to no technical support – employees typically do not have technical knowledge or experience and are primarily available to address non-technical product features and order issues.

Kits vary widely in what is included. Because sellers are product retailers and not solar experts you usually have to figure out what else you need yourself.

Warranties are variable and require extensive research

Retailer may or may not have contacts in your area for warranty covered maintenance or repairs.

Again, if you find out you can't DIY your solar project yourself after purchase, it could be difficult to find a qualified contractor who will help since they didn't sell you the equipment.
Dealer/Installer Kits
These companies have businesses that are built around providing solar. They should be hiring and training specifically for assisting clients with solar products. The best of these businesses typically have extensive knowledge of the solar industry, technologies, products, and regulations.
The most knowledgeable and hands-on, solar dealers rely on happy DIY clients to keep their reputation intact and business thriving. Make sure to check out client reviews on reputable sites like SolarReviews.com to ensure you are working with the right team to help you be successful in your DIY project.
How Does Fire Mountain Solar Help Ensure You are Successful with Your DIY Power System Goals?
We do the research on the products, so you don't have to! In our 20 years in business, we have watched manufacturers, products, and technologies come and go. Let our hands on experience work for you by allowing us to recommend products that are ethically made, have strong warranties, and provide the best value.

Our kits are designed by an expert to give you with the right solution and exceptional value. Your kit will include all the solar-specific equipment you need and we can advise which items can be purchased locally.

We provide basic design services prior to product purchase; general installation and technical support are included with product purchase. We also offer "a la carte" service options for additional assistance where you need it.

Once you have the basics, you can choose any or all of the additional services you want. That way you get the best prices on your equipment, and you can select the value-added services you want without paying for what you don't need, still saving money by installing your solar yourself.
Some of the additional services we can provide:
Detailed Custom Designs and Drawings
Installation Training
Utility Interconnection Research and Paperwork Assistance
Permitting and Inspection Guidance
Help with System Programming and Monitoring Setup
Technical Support and Troubleshooting
Now that you know just how important it is to choose the right products and support system for your DIY solar project, it's time to get started!