How to Save Money on an Off Grid System
Off-grid solar systems are an excellent solution to getting power for your out-of-the-way property. Depending on your needs and wants, off-grid systems can come with a large upfront cost. But there are ways to reduce the overall amount you will spend both on your off-grid power system and in ongoing fuel and maintenance costs. Here are Fire Mountain Solar's tips to help you save on your off-grid power system!
1. Energy Efficiency
It's cheaper to reduce your power consumption than to produce power. Spending a little more upfront on high efficiency appliances and devices will reduce not only the cost of your power system and energy storage equipment, but also on the ongoing fuel costs for a supplemental generator. Consider using power strips to reduce your phantom loads; the power draw that comes from certain devices – like a DVD player – even when they are turned off. When you're off the grid, even that little bit of power use can add up to more frequent running of your generator (and increased fuel costs).
2. Purchase & Install your System in Phases
Starting with just a generator and batteries, then adding the solar array later is just one way you can install your system in phases to save yourself money when you get started off-the-grid.
3. Package Pricing Pays!
When you buy all your equipment and/or services from Fire Mountain Solar we discount your package off our already competitive component pricing. That means you don't have to spend your valuable time shopping around for the best price on individual items.
4. Mounting of the Solar Panels
Pitched roof mounting a solar array is less expensive than ground or pole mounting because it eliminates the cost of trenching and longer wire runs. So if you can, mount your solar on the roof of an existing structure.
5. Start with a "Beginner" Battery Bank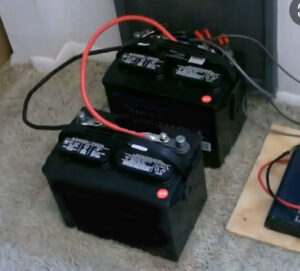 If you are using AGM or FLA (flooded lead acid) batteries, you don't want to add new batteries to old down the road. Instead, you can start with a small or lower quality battery bank and replace it entirely later. If taking advantage of the substantial benefits lithium batteries provide, a significant benefit is they allow you to add additional batteries later without affecting the efficiency of the new equipment.
6. Shipping
If you are local to us, or one of our suppliers, picking up your product yourself may help you save on your shipping costs. Another way to save on shipping is to have your items shipped to a local freight terminal. This can be much less expensive than shipping to your home where freight companies charge residential fees, and where you may also need to pay additional for lift gate service to get the product from the truck bed to the ground.
No matter where your adventures take you, Fire Mountain Solar is here to support you on your off-grid power system journey. If you have questions about your existing off-grid system or a planned project, need technical support or want to discuss possibilities, we are here to help.