New Construction Solar Design Tips
Congratulations on your future new home! During the exciting process of planning your dream home, you may want to design your house so it is optimally suited for installing solar now or adding it later. Not sure how to do that? To help you, here are our best new construction solar design tips:
Check Your Building Guidelines
Different locations have different building restrictions and guidelines to follow when it comes to installing rooftop solar. Before finalizing your house plan, you or your architect should connect with your local building authority so you understand any special considerations, such as setbacks and walkway requirements. The same goes for ground mounted solar. Some local building codes and zoning regulations may require your array to be at least a specified distance from the edge of your property. If you are installing solar during the construction process, contact potential contractors for quotes. If they are reputable, their design will comply with the regulations that apply in your area so you'll know what size system is best for you.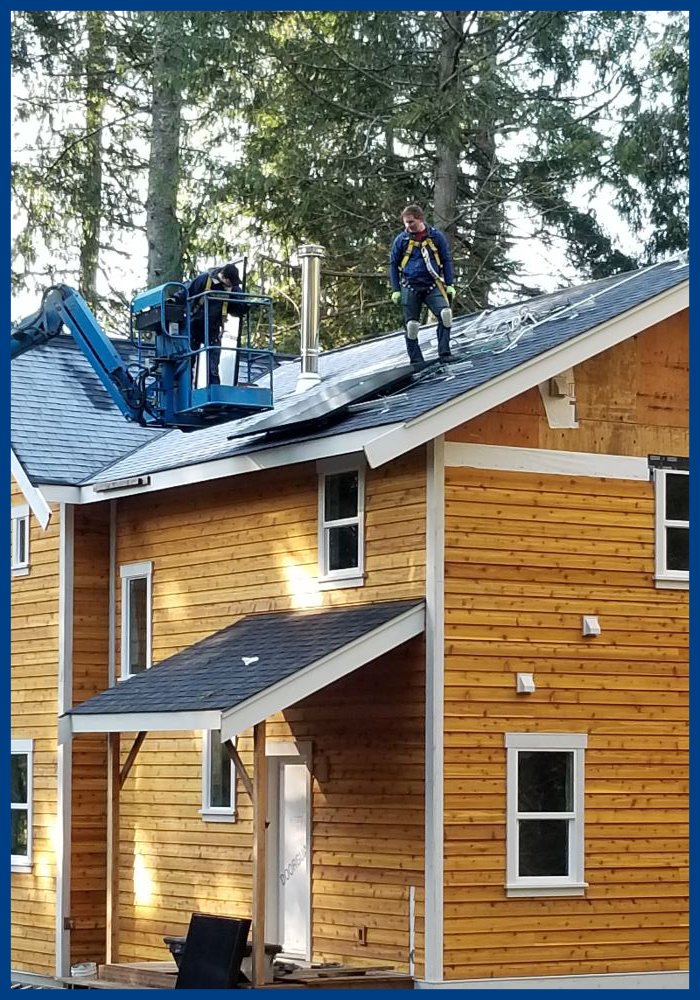 Choose a Roof Pitch
If you are planning to have your solar array mounted onto your roof, designing your roof with a pitch between 2/12 and 6/12 can make the installation process much easier and save you money. Any pitch above 6/12 is too steep to walk on and requires a lift to help you or solar installer safely attach panels without the risk of falling. If the roof pitch is above 6/12 installation is still possible, but keep in mind that it may cost more to rent equipment and requires some additional planning. Designing a flat area on your roof where a ladder can be placed will simplify installation, cleaning, or any other maintenance that is needed of your roof and your solar array. Thinking ahead about the design of your roof can prepare you for a smooth and safe installation, and simplified future maintenance of your solar array.
House Orientation, Location and Roof Design
Ideally your solar panels should face close to south in order to receive the most sunlight. If are unable to orient your home to face the south, southeast and southwest directions can also work. When choosing where on your site to place your home and creating your landscape plan, avoid potential shading sources on the roof face where your solar panels will be, like trees and nearby buildings. Remember, that little trees may someday be tall and beautiful enough to reduce the electricity you receive from your solar array.
If possible, avoid a multi-faceted roof design and minimize or eliminate all vents, skylights, and chimneys on the portion of your roof where you want to install solar panels.
Choose Your Roof Material
A common question we receive is what is the best roof material for installation of a solar array? We are happy to say that solar panels can be installed on almost all roof materials. Composition or asphalt shingle roofs can use bolted racking with flashings that protect any roof penetrations and prevent leaks. If you prefer a metal roof, non-penetrating solar racking attachments for standing seam metal roofs are available. You have many options for what type of roof material to use, however, concrete or clay tile usually present a significant challenge, making solar installation costs higher. So you may need to choose between your dream roof and having a solar array.
FMS Tip: Be sure to discuss how installing a solar array will affect the warranty of your roof. You may need to have your roofer install any penetrating attachments in order to keep your warranty valid.
Determine Whether a Ground or Pole Mount Array Is Right for You (if applicable)
If you have decided your solar array will not be mounted on your roof, a ground or pole mount is a great alternative. Make sure you have enough space on your property for a standing structure adequate to mount the size of solar array you want. And selecting a spot closer rather than further from your house location will save you on trenching, conduit and wire needed to connect the array to your home's electrical panel.
And remember to choose an area that is free from trees or structures to the south to minimize or eliminate shading.
FMS Tip: While your home is being built and you have construction equipment and electricians available, have them trench the ground and lay conduit (doesn't need to have wire in it) from near your future electrical panel to where you want to place your array. It will save you money in your overall cost for the array.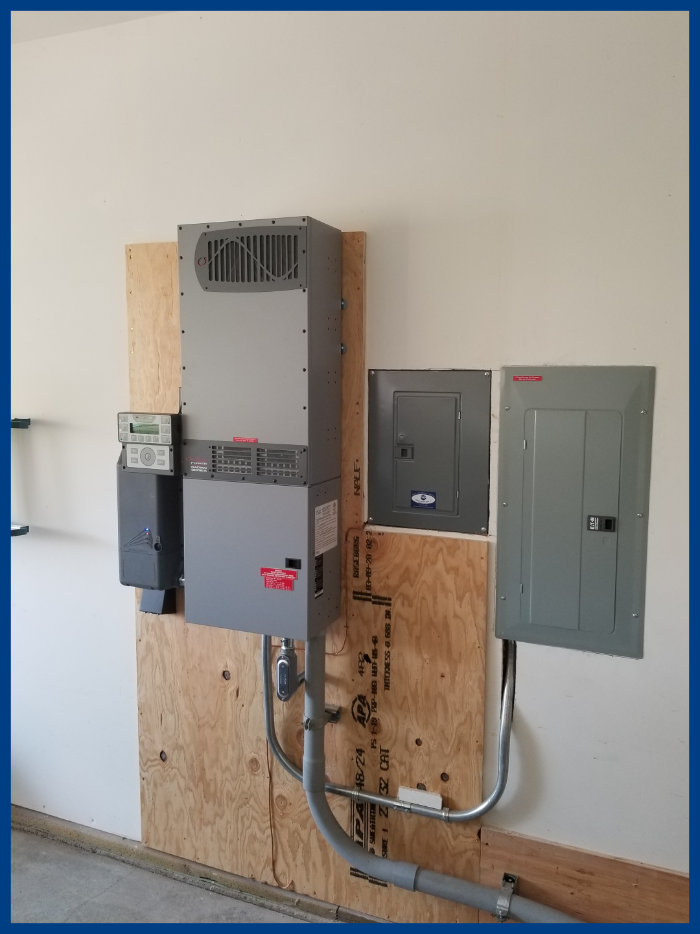 Create Space for Equipment Storage
When planning your garage and electrical service layouts, reserve an unobstructed space inside the wall near where your electrical meter will be placed on the outside. Some equipment may need to be mounted near your meter like disconnects or subpanels. For grid hybrid solar systems that include batteries, you will also need to designate interior floor space near where your electrical meter will be for placement and housing of the batteries.
Read: Solar and Your Utility
Choosing Energy Efficient Alternatives
Today, all new homes are required to meet a certain level of energy efficiency. But investing in the most efficient appliances, and better insulation and windows will save you more money on your ongoing living expenses, and on the cost of a solar array. If your house uses less electricity, it means you don't need as large of a solar system to offset your use. Or, it may mean that you can maximize your roof space with solar, providing extra power for things like charging an electric vehicle.
We're Here to Help
Planning all the aspects of a new home is exciting, and a lot of work. There are so many details to consider and we know it can be overwhelming. Check one thing off your list – let our team of experts make reaching solar power goals simple and stress free.