Solar System Sizes and Solar Components
Fire Mountain Solar LLC has designed throughout U.S., Canada and Mexico, and installed solar systems in the State of Washington, since 2001. We have installed simple grid-tie systems, battery back-up systems, more complex off-grid systems and whole-house backup power systems. Each project is customized for the unique needs and goals of the owner. We have installed systems ranging in size from just 2 panels to more than a hundred panels on a commercial rooftop. When you choose Fire Mountain Solar, we will base our recommendations to you drawing from the breadth and depth of our experience designing systems since 2001. In addition, we use solar ourselves to power our office and homes, and owners Tim and Alana Nelson even lived off-grid with solar-plus-batteries and a backup generator for 14 years.
What size system do you need? To answer that question we ask more questions:
What is your current annual electric usage in kilowatt hours (kWh)?
You can learn your annual use by looking at your existing electric bills or by contacting your utility and asking them for historical data. If you recently built your home or just moved in, we'll have to do some educated guesswork.
Are you planning to increase your usage? Reduce your electric usage? Get an electric vehicle? Expand the size of your family? Replace an old furnace with something much more energy efficient?
It is always a good idea to use energy efficiency to reduce your electrical load before you go solar. Take actions such as replacing existing light bulbs with LED bulbs, replacing aging appliances with new Energy Star ones, or add insulation to your attic.
How much roof space is available in a good sunny location?
We will look at Google Earth and PV Watts to get a general idea about how many kWh your roof could generate. When we do a solar site assessment, we can confirm roof size and solar exposure plus make a wiring plan to bring electricity from the solar system into your building. Several factors affect how much electricity is produced, including the weather at your location, shade from trees or buildings, the size of the solar system (how many panels), and the power output ability of each panel.
System Size
Residential System (3 KW to 12 KW) – What will work for you will be defined by your site, how much space you have on your roof, how much solar resource (sunshine) you get, and what your energy needs are (how many KWH/year you use). In Washington, most residences use between 5,000 and 25,000 kwh/year depending on whether or not they use electricity for heat.
Small Commercial or Farm System (12 KW to 25 KW) – Solar can be installed on barns, on old metal roofs, on flat roofs or out in a field. As you think about where on your site, realize that the solar system will be connected to your existing electric breaker panel and meter. If electrical upgrades are needed, we can make them. Federal tax code allows your business to take a 26% tax credit for the year that solar becomes operational AND to depreciate the purchase on an accelerated schedule. Please consult your tax adviser about the significant tax benefits of the solar tax credits for businesses.
Medium to Large Commercial Systems (25 KW to 100 KW) – We will design a system to be most cost-effective for you. Additional factors to take into consideration are wiring and inverters for three-phase power, utility approval for larger systems and local building codes and permits.
USDA Rural Development Grants are available to help offset 50% of the cost of a solar system for a farm or rural business. Fire Mountain Solar can help you find out if your business is eligible. We will also assist you with the application process since most of it is technical information related to the solar system and its output.
Solar Components
The two primary components in a solar system are the solar modules (solar panels) and the solar power inverter (converts DC made by panels to AC for use in your building).
Additional parts of the system include the solar panel racking system, possibly a combiner or junction box (depends on system size), power disconnect (sometimes built into other units, but yes you can deliberately turn your system off), rapid shutdown (required by fire codes) and wiring to bring power from solar array to the breaker panel for the site.
Here are the brand names used most frequently by Fire Mountain Solar which were selected for reliable long term very high-quality performance.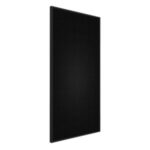 Silfab Solar (Made in WA or Made in Canada), Mission Solar (Made in Texas), QCell (Made in Georgia). The standard size seen in most pictures on this website are 60 cell panels (about 66″ x 40″ each). Another option is a larger 72 cell panel. Some solar panels come with a choice of silver frame color or black frame.
For grid tie solar systems: APSystems Micro Inverters; Fronius String Inverters (Made in USA); SMA Sunny Boy String Inverter (Made in USA); Chilicon Micro Inverters.
For grid hybrid and off grid solar systems: OutBack Power Radian and FXR/VFXR power inverters; Sol-Ark power inverters.
Learn more about grid tied solar systems.
Today's solar components make it easy to "grow" your existing system and utilize both today's lower prices and current incentives. Please contact us if you would like to add to your existing solar system.
Fire Mountain Solar LLC is one of the most experienced contractors for battery-based solar systems, as evidenced by the fact that Outback Power Systems, the world's largest manufacturer of battery-based inverters, turned to FMS to install the battery-based solar system at their facility. We were also selected again to install solar equipment at the research facility of Outback Power's parent company.  And many of their employees selected FMS as well when they wanted solar PV systems for their personal homes.
We can wire any home or business system to include batteries for a backup source of power when the power goes out. Added costs include batteries, essential load breaker panel, battery power inverter and more complex wiring.
We can upgrade your existing solar PV system to a solar with battery-backup system, or install a generator for backup power.
FMS can design and install a customized solution with or without solar, so that your life off the beaten path will be comfortable and convenient.