Types of Ground Mount Solar
Can't or don't want to put solar on the roof of your home? We have options for mounting the solar system elsewhere on your property so you can still get all the benefits of going solar.
Three Main Types of Ground Mounted Installations:
Standard Ground Mount Racking
A ground mount solar racking system consists of a frame of galvanized and/or aluminum supports that are secured to the ground and can support up to 4 rows of solar panels in either portrait or landscape orientation. The frame is anchored to a foundation of concrete footings, concrete ballasts (where the system sits on top of the ground and is held in place by weights), driven piles, ground screws, or a mixture of these components. Which type of foundation is best is based mainly on soil properties.
The rails and clamps that hold the solar panels are placed on the top of the structure, then the solar panels are mounted on top. The racking system is adjusted to set to the angle determined during the site survey and design process to maximize solar output without the need for seasonal adjustments of the array.
At Fire Mountain Solar we work with all the best manufacturers – IronRidge, Unirac, ProSolar, SunModo, MT Solar – to help you find the ground mount racking solution right for your project.
Top of Pole Mount/Multi-Pole Mount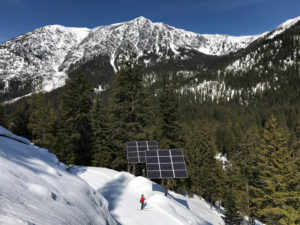 A pole mount solar racking system consists of one or more galvanized poles that hold up a racking system and provide a secure mounting structure for solar panels. A pole mount rack can hold from 1 to 15 solar panels on a single pole. Pole mounts frequently have a built-in tilt and/or swivel. Pole mounting gives you the advantage of being able to change the tilt of the solar array seasonally to maximize the output—and can be a more flexible option than roof mounting depending on the location. The height of pole mounts also allows the array to be listed above possible obstructions.
All pole mount racking systems offer upgrades for areas with extreme weather conditions such as heavy snow load and high wind speeds to ensure they are compliant for your local area requirements.
At Fire Mountain Solar the MT Solar pole mounting system is our favorite for many reasons, and our clients totally agree! You can learn more about their products HERE.
Custom Solar Panel Mounting & Racking
A custom mounting system can take a number of forms. It can be a custom built wooden or metal structure that functions as the foundation of the array similar to a standard ground mount
system, or it could be another type of unique or combination structure designed to safely and securely mount a solar array.
Major Considerations
A ground mounted system has to hold up to a lot! Wind, rain, snow, sleet, and more – the same types of conditions that any other outdoor structure endures. Every area requires that ground mounted systems can handle specific wind speeds, snow loads, and other structural stresses. Because of this it is vital that you DIY-ers contact your local building authority to find out what the permitting and engineering requirements are in your area.