Big Power, Big Dog
Fire Mountain Solar
It was over 4 years ago that Doc first contacted us for some components for his remote off grid power system. Always working to make remote living more comfortable and convenient for his wife and himself, this year he chose to add the first of two planned SimpliPhi Access energy storage and management systems. Featuring a built-in Schneider Conext XW6848 PRO inverter, a Conext MPPT 80 600 charge controller, and four SimpliPhi 3.8kWh, 48 volt LFP (lithium ferro phosphate) batteries, this fully integrated solution takes his off grid power system to the next level. These batteries should last 2-3 times as long as non-lithium batteries, and the prewired components in the durable, attractive housing make for a simple, clean installation.
Living relatively near the SimpliPhi plant in California Doc was able to pick up his unit there. Shortly after we received an email with photos:
"The big boy arrives! They were super nice and helpful folks at the very modern headquarters / factory.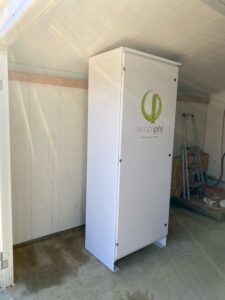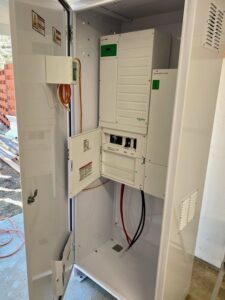 Dang!  This beast is heavy! I was too tired to place the batteries yet. Very impressive unit!"
Yes, this puppy weighs in at 600 pounds – be sure to team lift and bend your knees!
Speaking of puppies, Doc also shared with us a photo of his beautiful Grand Pyrenees rescue. We love when people send us pet photos!
Interested in learning more about SimpliPhi products or other lithium solar battery solutions? Contact Us!
Learn about Lithium Batteries for Solar