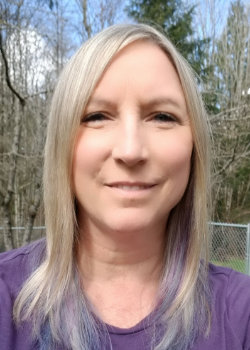 Alana Nelson
Fire Mountain Solar
Co-Owner, Administrative and Business Manager
Alana's key responsibilities in her role at FMS are business strategy and development, marketing, and financial management. As with her husband Tim, her non-professional solar experience includes 14 years living in an off-grid home. This real life experience comes in handy when she steps in to assist the sales and customer service teams in educating clients about the benefits and practicalities of life when you generate all your own power.
"Building relationships while we provide practical and financially beneficial alternatives to utility power to our clients is my favorite part of what we do at FMS. I always tell our team, our real job is serving people, selling solar is just our opportunity to serve them."
Alana is co-founder and former 6.5 year board member of Solar Installers of Washington (SIW), now the Washington Solar Energy Industries Association (WASEIA), a professional trade association established in October 2013 to be a unified voice for the common business interests of its members who are solar stakeholders in Washington state.
Away from the solar industry Alana's favorite things are being a wife, mom and grandmother. She also enjoys Seahawks football, trying all sorts of new recipes in the kitchen, supporting other local small businesses, and spoiling with her family's 2 dogs and 2 cats.
Random facts about Alana:
"​I hate wearing socks.
​I've been stung by a scorpion"