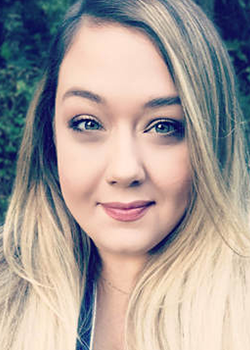 Katee Wood
Fire Mountain Solar
PV System Designer, Off Grid Specialist, Battery Geek
Katee Wood spent the first eight-plus years of her career at Outback Power Technologies, working in a variety of roles including six-plus years as a Technical Support Representative.
Katee is a subject matter expert on Outback Power products and systems such as inverters for battery-based on-grid or off-grid systems. She is highly knowledgeable in DC theory and battery chemistry. Katee has completed four solar PV classes through Solar Energy International (SEI), including hands-on training, and studied Electrical Engineering at ITT Technical Institute.
Katee's main roles at FMS are DIY system design and technical support. She also assists with project drawings and designs for full-service off-grid installations when the rest of the sales/design team is backlogged. And she loves finding fun, creative and informative things to post to our social media too.
When away from work, Katee enjoys the outdoors, especially camping.
Random facts about Katee:
I like to watch Disney movies alone.
My favorite pizza topping is pineapple.