Why You Should Be Skeptical of Door-to-Door Solar Sales Pitches
Almost every new client in recent weeks has reported that someone knocked at their door trying to sell them solar panels for their home. Some of these consumers report that the salesperson included in their pitch a warning that if they don't sign today they will not be able to get full net metering, or they will lose out on some other benefit. "High pressure" is a term frequently used to describe the sales approach.
People have also said:
"The quote seemed very high." And they almost always are well above what other contractors would quote. One potential client said they'd received a quote for $65,000. Our pricing for the same system was $33,000.
"After awhile they stopped talking about the solar, and it was more like they were just trying to sell their financing package." It's likely that the financing package is a huge revenue source for the company, and that the salesperson receives a signficiant bonus for selling the financing.
Some of our FMS team members have even had the opportunity to hear the sales pitch at their own homes, providing us with a direct look into how these companies operate. These experiences have given us strong cause for concern, and we're not alone. Installer members of the Washington Solar Industries Association (WASEIA) have reported similar comments from consumers they have spoken with. And Washington's largest utility, Puget Sound Energy (PSE), has had many of their customers contact them worried about things they have been told by a door-to-door solar salesperson.
What our team heard from these salespeople:
When asked how long they'd been selling solar, one door-knocker said three months. Our team member was then surprised to learn that someone so inexperienced was training the second person with them.
Our experienced team member was bewildered to get a sales pitch when she knew her roof wasn't a good candidate for solar. The salesperson seemed confused when the reasons why were mentioned.
When asked questions about net metering, incentives and what size system was recommended, the salesperson was vague at best. They simply repeated rehearsed talking points designed to sell, rather than directly answering questions or addressing concerns.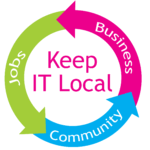 Buying Local Solar is Good for You and Your Community
The vast majority of door-to-door sales companies are not based in Washington. They are often nationally based firms dependent on volume, that move from state to state where the solar market is hot simply looking to sign as many new customers as possible "now".  On the flip-side, local firms are more focused on the long-game. They work to build stable roots in a community, and desire a strong and positive reputation that will give them decades of business. They support their community through the taxes they pay and the stable jobs they create.
Sometimes the businesses canvassing a neighborhood are just marketing firms selling leads or contracts to inexperienced or fly-by-night contractors. Their door-knockers are rarely solar experts. They are often just low paid recruits with very little actual knowledge about solar panel installations. Instead, most of their training is on a list of talking points designed to dazzle.
Protect Yourself from Bad Deals and Solar Scams
In an effort to help consumers, we've put together a list of some things to watch out for and some questions to ask that can help you determine if the person knocking on your door represents a knowledgeable and reputable solar contractor.
Beware of high pressure to "sign now or lose out." If someone insists that if you don't sign today you can't get net metering or some special deal, you may do well to pass on it. You should never feel pushed into making such an important investment decision "right now." A reputable contractor may inform you of incentives that are coming to an end and encourage you to make your decision soon, but they won't compel you to sign. If you're not ready to commit, tell them you need time to review the proposal. Even if there is a legitimate deadline looming, it's wise to sleep on the decision.
If someone comes to your door selling solar and represents themselves as from the state or your utility, be suspicious. "While some solar salespeople are legitimate, many scammers will take a similar approach and knock on doors pretending to represent the state or a utility company. They tend to make exaggerated claims about tax rebates and how much you can save on your energy bills."
Speaking of how much you can save, if you're promised a zero electric bill, ask for clarification and details of their calculations. Even if your system is sized to (on average) cover 100% of your bill, you will still pay a minimum monthly connection fee to your utility.
If it sounds too good to be true, it probably is. If you're promised "free" or "no cost" solar, it's a scam. "If the solicitor mentions "free solar" or a "no cost solar program", know that there is no such thing. Solar companies would love to offer everyone free solar, but the reality is solar is not free; solar is an investment."
Ask a lot of questions to find out how knowledgeable the salesperson is and to make sure you fully understand what you're buying, the contract terms, and who you're buying from.

Where is the company based? In our 20+ years doing solar in Washington, we've seen too many people who purchase solar from companies based out of state left high and dry when they needed warranty support.
How many years have they been in business in Washington? If the company is fairly new, why? Just because a company is young doesn't mean they aren't reputable. But be sure the company has experienced team members and is committed to being in Washington long term to support their customers down the road.
Ask about the experience of the salesperson. If a company doesn't take the time to train the people selling their products and services, it is difficult to have confidence in the training they give other members of their crew, like their installers.
If they say you could miss out on an incentive that is ending, ask them to provide a public source for that information. If  you're told net metering is ending, a common pressure tactic, your utility's website will have the information posted for all their customers to see.

Ask them to put their promises and warnings in writing. If they're legit, they should have no problem going on the record. In fact, this is a great piece of advice for anything someone is trying to sell you.
Always get a copy of your contract and read the fine print before signing. Ask for clarification on anything you don't understand and if the terms don't make sense, consult with an attorney. Some unfortunate consumers have found their paperwork included a loan application fee that they didn't know about, for a loan they didn't know they were applying for.
The federal Cooling Off Rule requires anyone selling door-to-door gives you at least three business days to cancel, providing a short window to change your mind for any reason. Contracts from reputable companies not selling door to door customarily include the same three day window. Most will even allow you to cancel a contract after three days – even a couple of weeks later – assuming that work has not yet begun on your project and no specialty equipment has been purchased.
Ask the salesperson if their company is a member of the Washington Solar Energy Industries Association (WASEIA). If the person doesn't know, they likely aren't. If they say they're not members, ask them why. WASEIA members commit to the highest standards in ethics and business practices, and WASEIA works hard to promote legislation and policies that protect consumers and make solar accessible to all Washingtonians. Why wouldn't a reputable company be a member?
Get a second quote, particularly when receiving one from a company going door-to-door. This will help you confirm any questionable stories you are being told, and make sure the quotes are reasonable for the system you're getting. In Washington, your best option is to select a WASEIA member. The first company to approach you might end up being the best, but you won't know until you look into other options.
If the company offers in-house financing, be sure you receive a full breakdown on the loan fees, interest rate, interest cost, etc. Some salespeople are making commission on the financing, driving up your financing costs. And read the fine print about who actually owns the loan. Some companies use financing from an outside "partner", then add their own fees and bundle it up as if they're financing themselves, again adding to your cost to finance.
Even when choosing a WASEIA member, research a solar company before making your selection of a contractor. Online reviews can give you important information about a company that can help you protect yourself.
Since 2001, Fire Mountain Solar has been committed to the highest standards of workmanship and ethics for all our clients. But don't just take our word for it, read our client's reviews on SolarReviews.com and Google. Then give us a call. Whether you need grid tie solar, off grid solar, or are looking to do solar with battery backup for emergency power, we would love the opportunity to work hard to earn your business.