Pole and Ground-Mounted DIY Solar
Pole and Ground-Mounted DIY Solar systems are fantastic options for do it yourself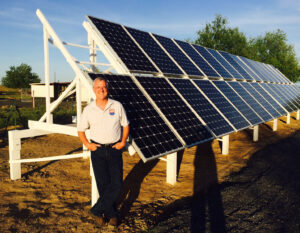 installers. It is 100% DIY doable – as hundreds of our DIY solar clients can attest. But remember that you will need to take care of a lot of "behind-the-scenes" work that a full-service contractor would otherwise be doing for you.  So you will need to spend time on the details needed to ensure your mounting system is safe and stable. We've outlined some key points that will help you be ready to pick out the right ground or pole mount system for your solar project.
READ: Steps to DIY Solar
Do you want to be able to seasonally align your array?
Pole-mounted solar is the best option for those who are interested in adjusting their array's tilt throughout the year to maximize production. Pole-mounted solar comes with its own advantages and drawbacks.
What type of soil do you have?
Your solar must be securely anchored into the ground so it will withstand expected and unexpected weather. Some soil types require deeper foundations or larger anchors to ensure your solar array is secure. You will need this information when you and your support team select your mounting system as it directly relates to the particular type, model, and necessary accessory parts of any mounting system that you use.

Will you need special equipment for footings or to dig trenches for wiring and conduit?
This goes into your initial planning phases. You need to know how far you will need to run wiring and/or conduit, and how deep and wide you will need to anchor your mounting system. This will vary not only between ground and pole-mounted solar arrays, but also by local codes.
Where do your utility lines – electricity and gas – run through your property?
Most areas have some sort of public resource to locate and mark where your utility lines run through your property. This is important first and foremost for your safety, and also to make sure you do not incur any fines due to potential damage.
What Permits Do You Need?
Check with your local building regulation departments about what types of permits and/or site assessment are required for installing a ground mounted solar system. To make sure your system is safe and will be allowed to operate by your utility, compliance with safety regulations is vital.
What are the snow and wind load ratings for your area?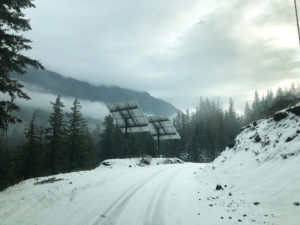 Not only will your permitting department want to make sure your equipment is compliant with these load ratings, it is important to make sure your system is safe, and your investment isn't compromised by anticipated weather patterns. This will also play into your mounting selection the same way that soil type does.
What are the property line setback requirements?
Depending on where you live, and the building codes and zoning regulations, you may need to have your array at least a specified distance from the edge of your property. You wouldn't want to install your system just to find out it needs to be moved 6 feet. Make sure you know if you have setbacks in your area.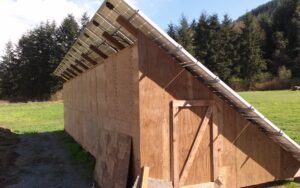 Are there any barrier requirements?
Some states and jurisdictions require some form of fencing or other barrier around the solar array to ensure it is not a danger to children, animals, or yourself. These vary so be sure to check out your locality's resources on solar codes.